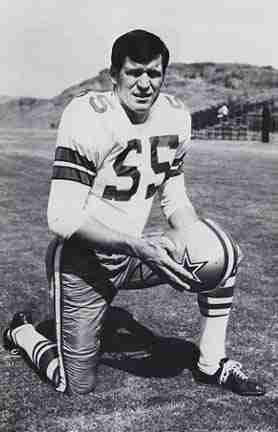 Before the Dallas Cowboys truly became "America's Team", they had to establish themselves as a true force in the National Football League. A big part of that emergence was their defense, of which Linebacker; Lee Roy Jordan played a key role.
Lee Roy Jordan was an elite Linebacker who was a tackling machine. Playing his entire fourteen year career with the Cowboys, Jordan was a hard hitting defender who always seemed to know how to strip opponents of the ball. For a Linebacker, he had many interceptions and had multiple fumble recoveries in his career. He was a serious contender for the Defensive Player of the Year Award in 1973 and was able to reach the Pro Bowl five times.
Jordan was a Hall of Fame finalist in 1988, but that was as close as he ever got. He is only eligible as a senior candidate at this point, but it does appear that the Dallas Cowboy Ring of Honor recipient will not make the leap to Canton.
The Bullet Points:
Country of Origin:
Excel, Alabama, U.S.A.
Eligible Since:
1982
Position:
Middle Linebacker
Played for:
Dallas Cowboys
College:
Alabama
Drafted:
1st Round, 6th Overall in 1963
Major Accolades and Awards:
Pro Bowl Selections (5) (1967, 1968, 1969, 1973 & 1974)
First Team All Pro Selection (1) (1969)
Second Team All Pro Selection (1) (1973)
Super Bowl Rings (1) (Dallas Cowboys, Super Bowl VI)
Other Points of Note:
Top Ten Finishes: Interceptions (2) (1973 & 1975)
Notable All Time Rankings:
None
Years Nominated for the Hall of Fame:
Finalist: 1988
Should Lee Roy Jordan be in the Hall of Fame?
Definitely put him in! - 22.2%
Maybe, but others deserve it first. - 11.1%
Probably not, but it wouldn't be the end of the world. - 44.4%