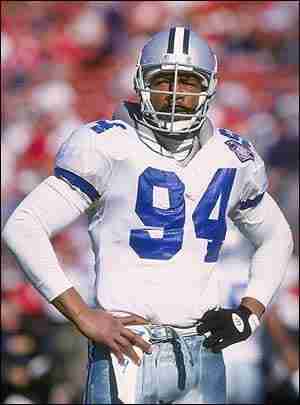 Charles Haley is the answer to the envious trivia question as to which football player has the most Super Bowl Rings. Haley captured five Super Bowls in eight years with the 49ers and Cowboys, but he was not just a long for the ride as he was one of the key defenders on all of the championship teams.
During his tenure with San Francisco and Dallas, Haley cemented himself as one of the most feared pass rushers in the NFL. He was obsessed with winning and made sure that attitude was contagious in the locker room. Haley was relentless and worked the inside better than most ever had before.
The supporters for Charles Haley's HOF candidacy have included the legendary Bill Walsh and John Madden. This kind of support may help sway people into changing their thinking from being the beneficiary of great squads, to a brilliant defender who helped to make defenses great.
The Bullet Points:
Country of Origin:
Gladys, Virginia, U.S.A.
Eligible Since:
2005
Position:
Left Outside Linebacker/Right Defensive End
Played for:
San Francisco 49ers
Dallas Cowboys
College:
James Madison
Drafted:
4th Round, 96th Overall in 1983
Major Accolades and Awards:
Pro Bowl Selections (5) (1988, 1990, 1991, 1994 & 1995)
First Team All Pro Selection (2) (1990 & 1994)
Super Bowl Rings (5) (San Francisco 49ers, Super Bowl XXIII & XXIV & Dallas Cowboys, Super Bowl XXVII, XXVIII & XXX)
Other Points of Note:
Top Ten Finishes: Sacks (4) (1986, 1988, 1990 & 2004)
Notable All Time Rankings:
22. Sacks: 100.5
Years Nominated for the Hall of Fame:
Finalist: 2010
Semi Finalist: 2005, 2007, 2008 & 2009
Should Charles Haley be in the Hall of Fame?
Definitely put him in! - 43.8%
Maybe, but others deserve it first. - 37.5%
Probably not, but it wouldn't be the end of the world. - 6.3%