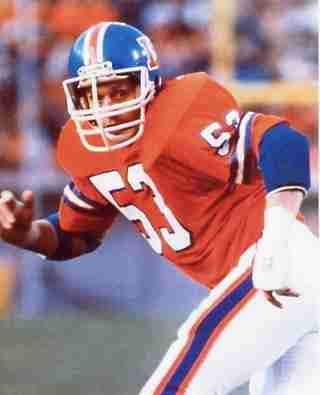 The Denver Broncos first became a team that was first feared when their defense became the "Orange Crush" in the late 70's. Many have credited linebacker, Randy Gradishar with being the heart and soul of that famed defense.
Gradishar was a tackling machine and won the 1978 Defensive Player of the Year. He consistently went to the Pro Bowl and was the leader of Denver's "Orange Crush" defense. Gradishar was known for his exemplarity football instincts and his hallmark ability to block the goal line. Had he been more attention grabbing, perhaps he would have made a bigger name for himself outside of Colorado.
It is funny to call a Defensive Player of the Year and a seven time Pro Bowl linebacker underrated, but he was to a certain degree. As John Elway led the Broncos to Super Bowl wins two decades later, the stars of the 70's that almost got there have become an afterthought. You would think that maybe one member of that team would have got into Canton by now.
The Bullet Points:
Country of Origin:
Warren, Ohio, U.S.A.
Eligible Since:
1989
Position:
Right Inside Linebacker
Played for:
Denver Broncos
College:
Ohio State
Drafted:
1st Round, 14th Overall in 1964
Major Accolades and Awards:
NFL Defensive Player of the Year (1) (1978)
Pro Bowl Selections (7) (1975, 1977, 1978, 1979, 1981, 1982 & 1983)
First Team All Pro Selection (5) (1978, 1979, 1980, 1981 & 1982)
Second Team All Pro Selection (1) (1983)
Other Points of Note:
None
Notable All Time Rankings:
None
Years Nominated for the Hall of Fame:
Finalist: 2003 & 2008
Semi Finalist: 2004, 2005, 2006 & 2007
Should Randy Gradishar be in the Hall of Fame?
Definitely put him in! - 38.5%
Maybe, but others deserve it first. - 38.5%
Probably not, but it wouldn't be the end of the world. - 7.7%