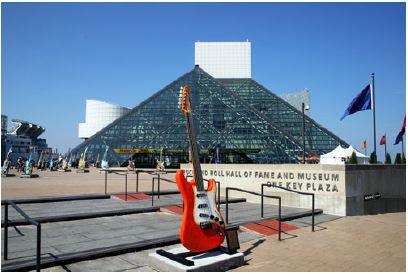 Last year three of us here at Notinhalloffame.com (Spheniscus, DDT and myself, the Committee Chairman) had a bit of fun attempting to predict what 15 acts the fine people at the Rock and Roll Hall of Fame will nominate.
Cockiness would dictate that I point out to my cohorts that I "won" last year and had the most correct. As I defend this title, I throw this challenge out: Sooner or later my travels will take me to either Boston or San Francisco respectively and perhaps you both will at some point venture to Toronto. I propose a basic beer bet (I am Canadian after all) where the loser covers the beer tab of the winner for an evening.
Gentleman, I will await for your answer….and without further ado, the predictions:
Spheniscus:
First Time Eligibles
Nirvana
This is the third year in a row that we have had one absolute no-brainer first year inductee, following Public Enemy last year and Guns 'N Roses two years ago. If Nirvana is not nominated my entire generation will march on Cleveland and burn all our remaining flannel shirts in protest. Okay, maybe we'll save one for when Dave Matthews Band becomes eligible. And besides, flannel is just really comfortable, okay?
Spheniscus:
Traveling Wilburys
George Harrison. Bob Dylan. Roy Orbison. Tom Petty. Jeff Lynne. Uh, wait who is that last guy again? All kidding aside, the Wilburys were created on a lark, (well actually a lunch combined with George Harrison forgetting his guitar at Tom Petty's house), and only recorded two albums. But look at those names again. There is little chance in my mind that the committee allows them to slip by without a nomination. Plus, we will have a second member of the Clapton club with George Harrison getting his third induction. Although I will admit that I will be very sad if Jeff Lynne gets in for the first time with the Wilburys and not the Electric Light Orchestra.
Returning from Last Year
Spheniscus:
N.W.A.
While it is possible that Erik B. and Rakim or LL Cool J make a return to the ballot, I think this year N.W.A. gets the only rap spot on the ballot. Because unless you think that Slick Rick, Tone Loc or Sir-Mix-A-Lot are rock hall worthy (in which case, go home you're drunk), there are no new candidates to challenge them this year. N.W.A.'s issue for induction is that they only released two studio albums, but the first was Straight Outta Compton, which went double platinum with nearly no airplay nationwide. They are in many ways the Stooges of the rap world, so it may take them some time to get in. But they will be nominated again this year.
Spheniscus:

Deep Purple
Oh, how I wanted Deep Purple to get in last year. I was dreaming of that Smoke on the Water/Barracuda combo we could have had with deserving enshrines Heart, but it was not to be. The good news was that they were finally nominated. Once you get a band this good over that initial hurdle, they tend to stay in the committee's mind until they are voted in. I hope that is the case with Deep Purple this year.
Spheniscus:
Chic
The good news is that Nile Rodgers is still alive and apparently now cancer free. The better news is that with that pesky Donna Summer now in the Rock Hall, there are no other disco acts in their way for nomination. The really bad news is that they are likely to be nominated again as the disco act and the Rock Hall more than slightly hates disco, only putting Summer in because they were guilted into it by her death. But on the bright side, The Stooges, Black Sabbath, Gene Pitney, Duane Eddy, Little Willie John, and Frankie Lymon and the Teenagers all got in on their eighth nomination. And only one artist, the late Solomon Burke, has ever gone more than eight nominations without getting in, finally getting in on his tenth try. So if they do get nominated either they get in, or they keep trucking towards a (dubious) new record.
Spheniscus:
Joan Jett and the Blackhearts
I, too, love rock 'n roll, but I don't get the love for Joan Jett and the Blackhearts. Particularly in a world where her first band, The Runaways, and the much harder rocking and much more successful Pat Benatar are still without a nomination. But it appears the committee has decided that they need someone in the Patti Smith role on the ballot and goshdarnit, it might as well be that still very foxy Joan Jett. I suspect we will see her on here next year as well, because she probably doesn't have the juice to get in on the back of her two hits.
Spheniscus:
The Marvelettes
The Marvelettes are pretty much the original Glee crew. Singers from a suburb of Detroit enter a talent show, get the opportunity to record something for Motown, catch the ear of Smokey Robinson and Barry Gordy and earn a #1 hit for their first record, Please Mr. Postman. There are several Motown groups which still have not been recognized, particularly female groups. Knowing that, it would not surprise me to see the committee take the group they brought forward for the first time last year and nominate them again.
Spheniscus:
Procol Harum
This is the British Invasion spot that exists every year. Last year I gave this spot to the Zombies. This year, after due consideration, I wanted to give this spot to the Moody Blues. What I don't want to do is give this spot to Procol Harum. Really, really, I don't. They are a one-hit wonder with a long career. But we are predicting who we think WILL be nominated, not who SHOULD be nominated. And they are apparently Little Stevie Van Zandt's new pet project. And what Little Stevie wants, Little Stevie gets (see: The Rascals, The Hollies, Donovan, The Small Faces, Darlene Love, Dave Clark Five, etc.) So they will be nominated. His next band after Procol Harum gets in, (and they will) is Johnny Burnette and the Rock 'N Roll Trio, who has never been nominated, but I have already prepared my paragraph on them for this article next year.
Returning from Previous Years
Spheniscus:

Gram Parsons
Last year I said that for their songwriter spot, the committee would go back to someone they had nominated before. And I was right. Unfortunately it was fellow 2005 nominee Randy Newman (if you want my opinion on him, look up Randy Newman and MadTV on youtube. You're welcome fellow haters), rather than Gram Parsons. While I hope that someday Warren Zevon gets a shot here, with Newman in, I think the Committee goes back to Parsons this year.
Spheniscus:
KISS
Let's face it, this is probably not likely to happen. I see no evidence anywhere that there is any momentum behind this nomination. So why do I choose them? Because now that Rush is out of the way, the Kiss Army now becomes the most vocal fanbase pounding at the doors of the Hall in Cleveland. And that is a scary group of people to have angry with you. And face it, this is LONG overdue.
First Time/Long Time
Spheniscus:

Stevie Ray Vaughan


Last year I thought that Stevie Ray would get the "Blues Performer" spot on the list previously held by Dr. John and Freddie King. Mainly because there weren't that many bluesmen left to be nominated. I overlooked Albert King (who got in). So I repeat, there now REALLY can't be that many more bluesmen between critical fave Stevie Ray Vaughan and his inevitable nomination. I think this is his year.
Spheniscus:

Joy Division/New Order
I get no joy in combining these two bands into one nominee. It makes me feel icky. But as I said last year, it is better for both to go in together than making them both wait indefinitely while you decide who should be nominated first (Joy Division is my vote on that front if you are scoring at home). While New Order was much more commercially successful and has had a longer run, Joy Division changed music and before Ian Curtis' suicide more or less created the Post-Punk sound. I'd love to get them in separately, but the last exhibit you see in the Rock Hall's main gallery in Cleveland are the two of them combined in one panel and I think that is the only way they get in. I just hope it is this year.
Spheniscus:

Linda Ronstadt
The woman is the greatest female rock icon of the 1970s. She just is. Look it up. She has 38 Hot 100 hits, 21 top 40 hits, released 30 albums, and won 11 Grammies. That she has never received a nomination is an abomination at this point. So why do I think that will change this year. Because she just announced she has Parkinson's and cannot sing any more. Much like Donna Summer finally got in once she passed away, Rondstadt's inability to sing will put her career back in the mind of the Committee and she will finally get remembered this year.
Spheniscus:
Peter Gabriel
Gabriel is already enshrined as a member of Genesis, but after leaving the band in 1974 Gabriel became one of the greatest solo artists of our time. Solsbury Hill, Games Without Frontiers, Biko, Shock the Monkey, Sledgehammer, In Your Eyes, Red Rain, the list goes on and on. I have no basis for why the Committee will pick him. He is an artist they have looked at multiple times before without giving him a nomination and I think the time for his first nomination is now.
Spheniscus:
Barry White
I agonized over my last spot, which is the wild card spot. The band or artist who has been eligible for many years and has never been nominated, probably because everyone thinks they are in already. Or a complete left field choice, like the Chairman's pick of Fela Kuti last year. Let's be honest, this one is probably not going to happen. Barry is dead and there is probably little momentum for him to get in at this point. But Isaac Hayes waited nine years and then skated into the Rock Hall on his first nomination. It just seems strange that he has been in for over a decade and Barry is still sitting on the sidelines.
Rookie Sensation
DDT:
Nirvana
There isn't a lizard-eyed bookmaker in Vegas who'll go beyond even money on Nirvana getting the nod to the Hall on its first-ever appearance on the ballot, although a few of the evil ones will dangle a 20-to-1 carrot against the Biggest Grunge Act Ever making it in front of the bloodshot eyes of a desperate IT manager who blew half of this month's mortgage nut during the company retreat at Mandalay Bay—and when he blows the other half on that sucker bet his wife will drag him down Fremont Street tied to the back bumper of the Honda Odyssey before cutting him loose in front of the gibbering Jesus freak pacing outside the Golden Nugget. Or as the Great Scorer would put it, Nirvana is as sure to make it as Richard Nixon is sure to stay in the grave. We hope. On both counts.
Rookie Sacrifice
DDT:
Living Colour
The white liberal fixers who run this nominating game—the same ones who make everyone from desiccated babbler Pat Robertson to slick huckster Rand Paul howl with toothless fury—still feel truckloads of guilt knowing that the white rock and roll that made them richer than Croesus owes its very life to poor black guys whose misery got transmuted into thick Delta chords of pain and lust, which then props up half the rock songs ever written. So who better to salve that Upper West Side conscience than black guys who not only played hard rock, they could play heavy metal, with Vernon Reid's axe slicing through Caucasian cock-rock like a Brothers' revenge scene from Dave Mustaine's deepest race-riot fantasy? These fixers know that, like every Democratic sacrifice run out against every Republican presidential juggernaut, from John Kerry to Walter Mondale to George McGovern to Adlai Stevenson—twice—Living Colour will get beaten like a gong during Chinese New Year on its first and only time on the ballot. But the fixers can then say that they tried.
Last Year's Also-Rans
DDT:
Chic
Last year it was N.W.A.'s turn to be the rookie sacrifice, and using the same twisted logic that puts Living Colour on the ballot this year, no one is going to put these big black nig—well, you know that comes with attitude from Compton to Newark—back on the ballot. So, in the Hall's belated recognition of disco, which half the Western world thought was the musical equivalent of Day-Glo polyester even as it did manage to capture that Generation of Seventies Swine in a frenzied boogie-oogie-oogie nutshell, the Hall will decree that you don't have to be a dead black disco artist to make it past the Cleveland gate-keepers. That means that Chic gets another chance to woo the voters. But it doesn't make this sorely underrated band Barack Obama. Or, should they fail to impress this year, even Alan Keyes.
DDT:
Deep Purple
Cazart! Just how rattlesnake mean are the Hall fixers going to be? After ignoring the band for two decades, they're going to put these poor, benighted suckers back on the ballot this year. Then, like Lucy in that damn dirty trick with Charlie Brown's football that kept repeating in Peanuts like chili-and-cheese fries in the rumbling gut of a lactose-intolerant rock critic, they're going to keep dangling before Deep Purple the promise of eternal enshrinement next to their fellow Blistering Blustering Brits Led Zeppelin and Black Sabbath, only to let the voters yank it away. Just like that wizened, crafty old Senate Confederate Strom Thurmond, Deep Purple soldiered on long past its short-lived relevance, but legions of fans starved for "real" rockers not yet in the Hall keep baying for blood over the injustice of it all. At least unlike Thurmond, they didn't father an illegitimate black child (in time or not) although—who knows?—maybe that would have helped.
DDT:
Kraftwerk
Who says the evil Nazis and their nasty Japanese fascist allies didn't win the Second World War? Back in the Watergate days, Washington insiders snickered that it was a good thing they didn't, or else everyone in government would be named Ehrlichman, Kissinger, and Kleindienst, and we'd all be driving German and Japanese cars. Kraftwerk wasn't nearly as brutal, but it did perform a musical Anschluss on the Eighties and beyond with that damn repetitive, hypnotic, Teutonic blipz-krieg that started showing up everywhere from carnal raves drenched in Ecstasy frenzy to half-mad sound scientists in codeine-laced rat holes insolently saving their elaborately simple ambient grooves to disk. One of these days, it'll be Kraftwerk, Kraftwerk uber alles. Why not now?
Back for Another Shot
DDT:
Bon Jovi
The Hall does hard rock like Michelle Bachmann does the campaign trail—half the time it doesn't know where the hell it is but it keeps tap-dancing on the stump as if it knew what the hell it was talking about. That means that it's time to dredge back up these Jersey boys as prime examples of what it was like to Rock in America in the Eighties, and to hell with Night Ranger for coming up with that song title in the first place—Bon Jovi should have owned it. So says the Hall, and if it says an overhyped glam-rock act like Queen has the heavy credibility to park its Marshall stacks in Cleveland, then surely a pretty boy like Jon, who can make the girls' panties damp crooning a power ballad without mussing his golden locks, is a better bet than some Limey operatic diva of the kind of peculiar persuasion that would make Bachmann's eyes boil inside her skull? But what do the people say?
DDT:
KISS
As the Back Door Man might have put it, what the fixers don't know, the KISS kids understand: Rock and roll is supposed to be fun. So what if these guys look like they were ejected from an exploding Kabuki theme restaurant? Punk rock gets a lot of lip service for sticking the sword into the sides of those bloated greedhead carcasses Arena Rock and Progressive Rock, but while these Greasepaint Gonzos probably made Jeff Beck writhe in virtuosic disgust, they reminded everybody that taking rock too seriously is like taking sex too seriously—if you do, you won't get off nearly as much as you should. Does this mean KISS is going to the Hall? Probably not—but the fixers are going to roll the dice and put it to the voters to decide. Then they'll hold their breath.
DDT:
LL Cool J
If the fixers are pissing themselves at the thought that, sooner rather than never, they're going to have to fully face the Urban Beast Called Hip-Hop, they should smile favorably on LL. With Public Enemy safely filed away in the shrine, its scary street politics now acknowledged as a Major Statement for Rock and Soul Edginess As We Know It, the Hall can embrace Cool James as the Acceptable Face of the 'Hood, maybe not a tap-dancing Barack Obama but certainly devoid of the uncomfortable home-truth stomp of a Jesse Jackson. In fact, the guy the Ladies Love looks and sounds like he could glide into a local-government gig with either a D or an R after his name. Why not? It worked for Sonny Bono, right? Let's just hope that he doesn't take up skiing.
DDT:
The Spinners
Like Forrest Whittaker in some recent movie that's playing on the Hallmark Channel—or maybe it's in the local MegaPlex, fighting for attention alongside the latest Slow Walkaway from Explosion starring Turbo Diesel or somebody like that—the Spinners have played the loyal retainer to the Rock and Soul White House into their retirement years. This engaging, unassuming valet of R&B kept its cheer and its temper in check in the stoned-out Sixties before attaining middle-aged respectability in the coked-up Seventies, and it is still concluding its rounds of valedictory congratulation at the middlebrow middle-class casino over in the next county. After a lifetime of service, the Spinners deserve a lot more than a gold watch and a pat on the back from the Man in Charge. At least Forrest Whittaker could play the Rubberband Man in the movie.
Never Been Nominated . . . Yet
DDT:
Whitney Houston
I might sound like a ghoulish Koch Brother by saying that death becomes her—but look what happened to Donna Summer last year. The Melisma Thrush might not have put together such an impressive body of work—if she were white and sang country-pop, Whitney Houston would be called Reba McEntire and would have had her own sitcom on some network down the channel listing from the Serious Broadcasters—but her death last year has put everybody in a sentimental mood. But for the fixers, here's the real reason why Whitney Houston matters: She could stretch out a word like "love" until it had fifteen syllables across eight bars, and she did it with the passion of a Manson-eyed televangelist exhorting you to believe that fire and brimstone, the likes of which would make Sodom and Gomorrah look like a refreshing summer shower, was about to rain down on your sin-encrusted world. Suddenly every punk karaoke joker who could make it to the end of "You've Lost That Lovin' Feeling" without blubbering was pounding melisma harder than Pee Wee pounded his Herman in that darkened cinema. It ain't exactly a proud accomplishment—but damn if it isn't everywhere now.
DDT:
Jethro Tull
After 20 years of whistling on a park bench at the corner of Yes We're Eligible and Maybe We're Worthy, these poor old moth-eaten castoffs from a failed Dickensian musical satire are still awaiting alms from the fixers. Maybe it's the songs about pedophile pensioners, cockeyed concubines, or cuckolded conductors that make everyone start away uneasy. Then again, the Elizabethan Boogie that stems from the flute of Ian Anderson just might be too droll even for an outfit with a twisted enough sense of humor to induct the Dave Clark Five. Just because Anderson acts as if Walter Raleigh had been smoking coca leaves and not tobacco ones isn't a sound enough reason to not at least nominate Jethro Tull. Maybe the farce of the 1989 Grammys still lingers, when Tull was crowned that year's Heavy Metal King over AC/DC and Metallica. But everyone knows that Grammy has all the agility of George W. Bush at a Mensa convention, so don't hold that against the band. With Rush off the books, what other left-field act that plays so fervently to its fanbase is left? If the fixers don't nominate Tull this year, they are in essence telling Anderson to stick his flute almost, but not quite, where Alyson Hannigan stuck hers in American Pie.
Legacy Lip Service
DDT:
Albert Collins
When it comes to which bluesmen get the ticket to Cleveland, the fixers are not always consistent about where they get shoehorned. Freddie King is an "Early Influence" even though Grand Funk bragged about partying with him in their only Hall of Fame moment "We're An American Band"? Not to mention all that residual White Liberal Guilt about having built so much rock on the back of the blues? (See: Living Colour.) Or that once you get past Memphis Minnie and Koko Taylor, pickings for blueswomen get pretty slim? Albert spit out shards of lead guitar like he was Rodin attacking a block of ice while jacked up like a toothless hillbilly on crystal meth, cold steel lodging in the eardrums before working their way into your brain and then down to your gonads. That's the kind of axe-slinging that screams rock and roll. Even if they call it the blues.
Off the Wall or Dreaming/Hallucinating
DDT:
The Cure
With his Gothic pallor, tousled hair, and mournful eyes all seeming to attract willing partners from both sides of Fascination Street, Robert Smith was probably getting beat to a fine pulp just on general principles all the way back in nursery school. But he grew up to read Camus—or at least crib The Stranger—learn a few instruments, and form a band that tossed glam and gloom into the New Wave Cuisinart, a band that has been moping and pouting in the velvet shadows even long after Joy Division hung it up to become New Order and hit the dance floor. The Cure might not be your hypodermic of choice, but it is definitely a shot in the arm for modern rock—and a more attractive Goth offering for the skittish fixers.
DDT:
Ozzy Osbourne
They laughed at Ronnie Reagan too, the guy who played second banana to a chimp before he—or his brass-knuckle handlers—decided that, like Frank Zappa intuited, politics was show-biz for ugly people, and with Smilin' Ronnie that ugliness was on the inside. But we're barreling down another dangerous tangent again. Ozzy too has a brass-knuckle handler, one who would make even Michael Deaver flinch, but even though His Ozzness is already a Cleveland resident with Black Sabbath, his solo career is a whole other gig to be considered. Randy Rhodes was a big part of that at the beginning, before he joined the Heavenly Combo because of a plane crash that would make Ronnie Van Zant roll his eyes, but Ozzy lumbered on, and the Clown Prince of Heavy Metal turned out to be a Rock and Roll True Believer to the bitter end. And that's music to the ears of the fixers.
DDT:
Roxy Music
Look, we can settle in with a snoot full of ibogaine and a quart of Wild Turkey to lock horns over the sixty-three best reasons why this exquisite Prog/New Wave/Romantic/Cabaret Mother of Pearl is as overdue for the Hall as Henry Kissinger is overdue for the International Criminal Court—although just as criminal is the ugly reality that the Hall fixers have never nominated Roxy Music even once. But sweating like a State Department spokes-spinner backpedaling on Syria, I'm sprinting to finish this piece before it becomes as stale as a Romney/Ryan bumper sticker. And when I got this assignment I had been revisiting old Doctor Gonzo's finely twisted reporting on the '72 presidential campaign, and that flooded my thinking about what kind of badly-stitched ballot the Hall fixers would throw at us this year. But trying to figure out just how those jack-booted industry Mandarins on the nominating committee are going to pick the candidates is as dangerous to my mental health as trying to figure out why Dick Cheney's liver hasn't exploded from spite and greed yet—it defies logic, and if I knew any smarter, probably a few laws of physics as well. So, this set of predictions is truly my best guess as to the inner workings of the Hall fixers—along with my foolish, fervent belief that they will actually nominate Roxy this year. But the Mojo Wire is beeping at me with all the menace of a Predator drone, so I must put the "30" on this screed now. Res ipsa loquitur.
Committee Chairman
:
Deep Purple
In the early days of constructing this website, the first thing was to first determine just who is eligible. Although they were not designated #1 on our list, the omission of Deep Purple was always the most baffling, as not only had they never been inducted, they had yet to be nominated! Last year, the nominating committee changed that, and I was begging for this oversight to be corrected. It wasn't, but I don't think this is a "one and done". They are the perfect Classic Rock nominee, and it can be argued (and I will) that this is the most "Rock and Roll" eligible act available, hence why every guitarist began with "Smoke on the Water"….and why you are humming that riff right now.
Committee Chairman:
Kraftwerk
Last year I selected Rush. Not necessarily because I thought they would be selected, but because I WANTED them to be. Rush was nominated and inducted, and I will follow this tradition with Kraftwerk. It actually is a logical pick, as they were nominated last year and fit an electronic slot, and certainly the credo of innovation that the Hall claims to covet. The ironic thing is that I doubt if the German group or even their fans care if they are inducted or not. Unlike the KISS army, or Rush's fans from years before; there is no discernable movement to induct them. Ironically, that may be what the Hall of Fame likes the most! Now, I have to figure out why I care!
Committee Chairman:
N.W.A.
Sorry haters; Rap and Hip Hop are already in the Rock and Roll Hall of Fame, and that is how it should be! I am resisting every instinct to go on a diatribe here on this subject and I will just reserve that for a future section that I plan to create for the site which will be reserved for my soapbox tangents. N.W.A. was nominated last year, and had it not been for debuting the same year as Public Enemy, would probably be in already. "Straight outta Compton" is flat out the most important Rap album ever made, and though that pretty much sums up their body of work, that didn't stop Cleveland from inducting the Sex Pistols. I will predict that not only are they nominated, but that they get in.
Committee Chairman:

Joy Division/New Order
Somehow the Cure took this spot last year, but I will repeat my incorrect choice of last year of this hybrid selection. For the record, I hate that they will combine it. I hated it when the Faces and the Small Faces were inducted together, and I will hate it more when than this British contingent gets in together. Why? Because it isn't the same band! Joy Division and New Order were both influential but for completely different reasons. Wait, how did I wind back on the soapbox again?
Committee Chairman
MC5
I am going to play the same card as last year. After a long wait and multiple nominations, The Stooges were inducted. MC5 shares the same proto-punk pedigree as Iggy and his gang, and have also been nominated multiple times in the past. Although Punk may not respect the Hall, the Hall respects Punk. Keep in mind, this is a Hall decided primarily by critics, and if any genre is a little overblown it is this one. Sooner or later these forefathers will get in, and I am going to go with the hunch that they are going to at least get the nomination.
Committee Chairman
Chicago
I still remember being a pre-teen hearing Peter Cetera's sappiness stink through my father's Grand Prix in the early 80's and hating them instantly. I was developing my Rock and Roll rebellion, and "Hard to Say I'm Sorry", wasn't cutting it. Yet, like so many other bands you discover, you work backwards and with Chicago I found a deeply textured band and really began to understand why they had a legion of fans. Every year there is a top act who has yet to at least be nominated, and perhaps this will be the year for Chicago; though I wish they could do that without Cetera.
Committee Chairman
Lou Reed
Every year there is a Songwriters nod. Lou Reed has had a career that I have found both beautiful and befuddling, but he is one that there is no real urgency for. Reed is already (justifiably) in with The Velvet Underground, so it is not like he is omitted. However, he was nominated already twice, though that was twelve years ago. Still, a nomination for Reed both occupies a Songwriters and Classic Alternative spot, though frankly I would rather see this go to another past nominee in Gram Parsons.
Committee Chairman
Bon Jovi
Maybe I am "Livin on a Prayer" with this one. Even though they made headlines for the wrong reasons this year (Richie Sambora's departure), Bon Jovi is actually a past nominee (bet you didn't remember that) and say what you want about this band, but this is a "Rock" band; something the Hall is often criticized for not inducting. Sambora's exodus aside, this is a band that still sells out arenas and would sell tickets at an induction ceremony. This is something that cannot be dismissed!
Committee Chairman
War
Another multiple nominee from the past, War is that band that the nominating committee has shown respect, though that may be about it. It is rare that you hear War discussed as greats or innovators, but they melded musically styles effortlessly and though they haven't received their due (and even a Rock and Roll induction may not change that) there is a good chance that history will catch up to them. Here is what I really like about a nomination for War; inadvertently, this gives the nomination class a worldly quietly as if any band was a global melting pot, it was them….even if they were from Los Angeles.
Committee Chairman
The Spinners
Every year there is a Motown act on the ballot and though the Spinners are really more of a Philly Soul act, they did get their start in Detroit, thus making them a group that represents both musical hotbeds. Although I made a personal plea for Kraftwerk earlier, frankly it would be the induction of the Spinners that would put the biggest smile on my face. This spot could go to the Marvelettes or Mary Wells (another that would make me very happy), but I think that the Spinners are beeping the loudest on the Hall's radar.
Committee Chairman
The Zombies
London Calling? It does every year in Cleveland so which discernable British act from the generation past will get a shot? I am going with the Zombies, who though do not have a strong body of work, have a legacy that continues to grow. This could be a spot for Procul Harum again who despite having a much larger catalogue is also known for one signature song. OK…you got me…I am playing a hunch.
Committee Chairman
Chic
This is starting to get sad. If you ever watched the Daytime Emmy Awards (and chances are you haven't, and if you do, it is far better while intoxicated) Susan Lucci was nominated nineteen years before finally winning, which was probably out of pity. Chic is dangerously entering that territory. Now that Donna Summer has been elected, the perennial Disco slot is Chic's, but they have been nominated in the past in years without Summer without ever being selected. Will it take Nile Rogers dying before they get in? Actually, yes…..that is probably what will happen.
Committee Chairman
Joan Jett and the Blackhearts
This one bothers me. It is not that I don't think that Joan Jett is not a kick ass Rock and Roll queen, I really do, but do the Blackhearts really have a Hall of Fame career? I really don't think so, but her combined work with the Runaways (who I think have a stronger claim to Cleveland) does give her what is close to a Hall of Fame resume. The Runaways should have been on the radar after their biopic (didn't happen) and Jett has already been nominated. As the Rock and Roll Hall of Fame wants more women in the Hall, this is a nomination that will translate into an induction.
Committee Chairman
LL Cool J
Here is another one I personally don't want to see this year. Last year, there were two Rap/Hip Hop acts on the ballot, and there isn't any really reason to think that will change. LL is a past nominee, though I have always found that as innovative he was in his youth, he put out a stinkfest in his later years. What works in his favor is that he has maintained a much higher profile than others who could fill this slot (Eric B. & Rakim & Afrika Bambaataa) which gives the Hall the reason to back to "Cali".
Committee Chairman
The Shangri-Las
I took a swing and a miss on them last year, but I am going to back to gender card here again as I only have Jett on the female side of the ledger. The Shangri-Las also fit have pre-punk ethos, they were rebels in their day and it has a feel good vibe to it. Let's see if I go for 0 for 2.
That's my 15, and you may have noticed I didn't take a Fela Kuti wildcard. You may have also noticed I didn't take Nirvana, who we have at #1 on the list. I know, I'm the damned Chairman and creator of this site, and I didn't take the band I helped peg at #1 for the Hall? Shouldn't this be a no-brainer? Here's the thing….I am not convinced they are eligible yet.
Now you're more confused right? The Rock and Roll Hall of Fame clearly states that an act is eligible 25 years after their first album (which makes it 2014 for Nirvana) however this is a rule that has been bent by them with their ridiculous induction of Smokey Robinson without the Miracles. It has been suggested that since their first official recording (single) was released in 1988 that they are in fact eligible, but when we ask the Rock and Roll Hall of Fame directly if Nirvana is eligible they respond the way they always do; which is no response at all.
Heaven forbid that they drum up interest and fun with it and post on their site that is now eligible. Baseball does this, even with all the controversial players who are up (and continue to become) eligible. Would it be too much to ask for a little clarification in your already controversial institution? From music critics, yes it is.
That's it, that's all from our little peanut gallery. We await the nominations so that a new round of debate can begin. At least from the Rock and Roll Hall of Fame, we can always count on that.