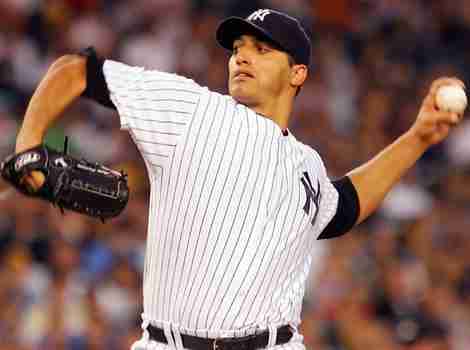 It was not that long ago that we here at Notinhalloffame.com looked at two pitchers (Roy Halladay and Tim Hudson) who reached the 200 Win milestone and openly discussed their overall Cooperstown credentials. We now have had a greater milestone achieved, that of 250 wins by Andy Pettitte, who secured that feat by defeating the Seattle Mariners today. Pettitte is currently the active pitcher with the most career wins, but unlike Roy Halladay, who has significantly less, we are not sure that Pettitte measures up.
First off, there is the PED question. The New York Yankee is an admitted PED user in the past, but he set the blueprint that virtually every other caught Baseball player should follow on what to do if becoming associated with Performance Enhancing Drugs. That part of Pettitte's history is hardly brought up anymore, though we can imagine that once he becomes eligible for the Baseball Hall of Fame, it will be brought up again. However, if we take that out of the equation, do his 250 wins bring him a little bit closer? In our opinion, it very well might.
Andy Pettitte was a Cy Young Runner up in 1997, and three other times was a top five finisher. However, he was associated with very good seasons, and never won that was truly dominant. His All Star appearances only total three, and his top ten finishes in major categories are not at a mark that screams to us "Hall of Fame".
He did have the most Wins in 1996 in the American League, and was a top ten finisher five other times, however he only was in the top ten in ERA three times, and never had a top ten finish in WHIP. With WAR for Pitchers, Pettitte also finished in top ten only three times.
Statistical accumulation might be his best route for potential induction. Since his return to the Major Leagues, he has added ten wins, moving from 240 to 250, and ten spots in the all-time rankings, where he is currently 47th. He has added 2.6 in his career WAR for Pitchers, which moved him eight spots to the 62nd all-time career rank.
At the age of 41, Pettitte can't have much more left, and though he has been relatively productive this season, we think a lot more will have to be done before we could pencil him in for enshrinement. Now, we want to know what you think!