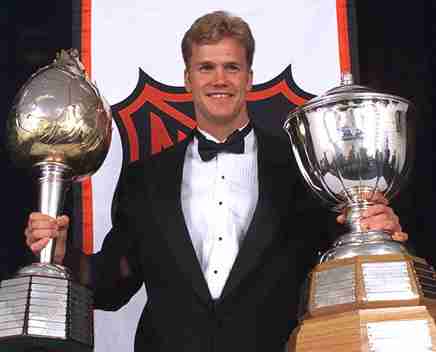 As a past winner of the coveted Hart Trophy, Chris Pronger has to be considered on the inside track for the Hall of Fame. A VERY high percentage of these regular season MVPs have been selected to Toronto, and though Pronger was only in serious contention for that award once in his career, he has maintained a very good level of consistency in his career and was always considered amongst the better players in the game.

The talented blue liner excelled at both ends of the ice and has been a constant on four consecutive Canadian Olympic Teams. Pronger should make it to the Hall very quickly based on his resume, though with a loaded group eligible at the same time, is it possible that Pronger might be the odd man out?



The Bullet Points:
Country of Origin:
Dryden, Ontario, Canada

Eligible Since:
2015

Position:
Defense

Played for:
Hartford Whalers
St. Louis Blues
Edmonton Oilers
Anaheim Ducks
Philadelphia Flyers
Team Canada (Olympics, 1998, 2002, 2006 & 2010)

Major Accolades and Awards:
Hart Trophy (1) (2000)
Norris Trophy (1) (2000)
First Team All Star (1) (2000)
Second Team All Star (3) (1998, 2004 & 2007)
NHL All Star (5) (1999, 2000, 2002, 2004 & 2008)
Stanley Cup Rings (1) (Anaheim Ducks, 2007)
Olympic Gold Medals (Canada, 2002 & 2010)
Should Chris Pronger be in the Hall of Fame?
Definitely put him in! - 57.1%
Maybe, but others deserve it first. - 0%
Probably not, but it wouldn't be the end of the world. - 0%