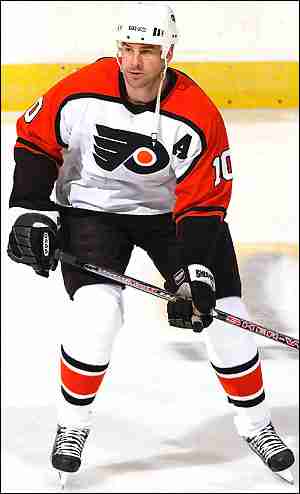 Some have said that John LeClair got off to a slow start in the NHL. There is certainly a level of truth to that as his stint with the Habs showed his defensive skill but not any real offensive proficiency. Upon becoming a Philadelphia Flyer, LeClair really began to use his size and mobility. He was placed on a line with Eric Lindros and Michael Renberg and the line dubbed the "Legion of Doom" became a highlight reel staple with their goals and bruising nature. LeClair became the first American to net 50 goals three seasons in a row. The question for the Hall is did John LeClair's Broad Street tenure do enough to secure a spot.
The Bullet Points:
Country of Origin:
St. Albans, Vermont, U.S.A.
Eligible Since:
2009
Position:
Left Wing
Played for:
Montreal Canadians
Philadelphia Flyers
Pittsburgh Penguins
Team U.S.A. (1996 World Cup, 1998 & 2002 Olympics)
Major Accolades and Awards:
Plus/Minus Award (1997 & 1999)
NHL All Star (1996, 1997, 1998, 1999 & 2000)
Stanley Cup Ring (1993) Montreal Canadians
Should John LeClair be in the Hall of Fame?
Definitely put him in! - 66.7%
Maybe, but others deserve it first. - 16.7%
Probably not, but it wouldn't be the end of the world. - 0%