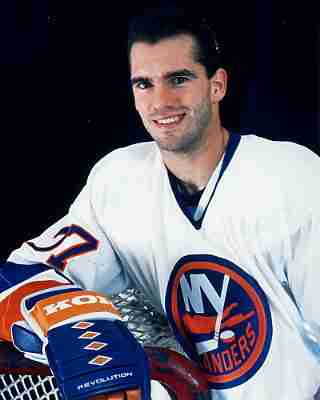 With a whopping 1,327 career NHL points, Pierre Turgeon was able to live up to the billing of the number one overall draft choice that he was. Twice, Turgeon was able to reach 100 points on a season, his highest being the massive 132 points he amassed for the Islanders during the 1992-93 season. Unfortunately, Turgeon was on teams without other pieces and he was unable to lead any team deep into the playoffs. Turgeon may not have been the most complete hockey player but anyone with over 500 career NHL goals and over 1,300 points has to be considered on the fast track for induction.
The Bullet Points:
Country of Origin:
Rouyn-Noranda, Quebec, Canada
Eligible Since:
2010
Position:
Center
Played for:
Buffalo Sabres
New York Islanders
Montreal Canadians
St. Louis Blues
Dallas Stars
Colorado Avalanche
Major Accolades and Awards:
Lady Byng Trophy (1993)
NHL All Star 1990, 1993, 1994 & 1996
Should Pierre Turgeon be in the Hall of Fame?
Definitely put him in! - 38.5%
Maybe, but others deserve it first. - 7.7%
Probably not, but it wouldn't be the end of the world. - 23.1%