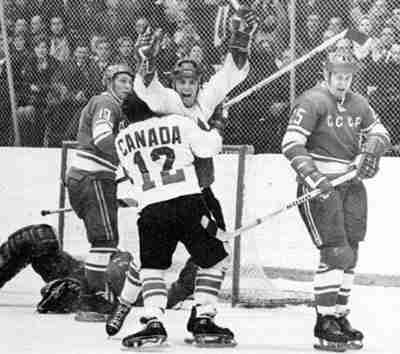 With 477 career NHL points (and 283 in the WHA), the professional statistics speak to a very good player but not that of the Hall of Famer. This is very much the consensus of most hockey pundits and fans alike. However, we all know of that intangible of the 1972 Canada/Soviet Union Summit Series. Coming off his most productive NHL year with 38 goals, Henderson was an afterthought selection to team Canada. Henderson responded with the best hockey of his career leading the tournament with ten points. Of course, it was that final point, a goal with thirty four seconds remaining that he will known forever for. That goal won the series and made him an icon in Canada. It is a moment that is played over and over again on Canadian television, and will be replayed for generations to come. When critics say that Paul Henderson would not be in the Hall of Fame discussion if he hadn't scored "the goal" but what they have to remember is one thing: HE DID score that goal.
The Bullet Points:
Country of Origin:
Lucknow, Ontario, Canada
Eligible Since:
1983
Position:
Left Wing
Played for:
Detroit Red Wings
Toronto Maple Leafs
Toronto Toros (WHA)
Birmingham Bulls (WHA)
Atlanta Flames
Team Canada (1972 & 1974 Summit Series)
Major Accolades and Awards:
NHL All Star (1972 & 1973)
Should Paul Henderson be in the Hall of Fame?
Definitely put him in! - 28.6%
Maybe, but others deserve it first. - 28.6%
Probably not, but it wouldn't be the end of the world. - 14.3%