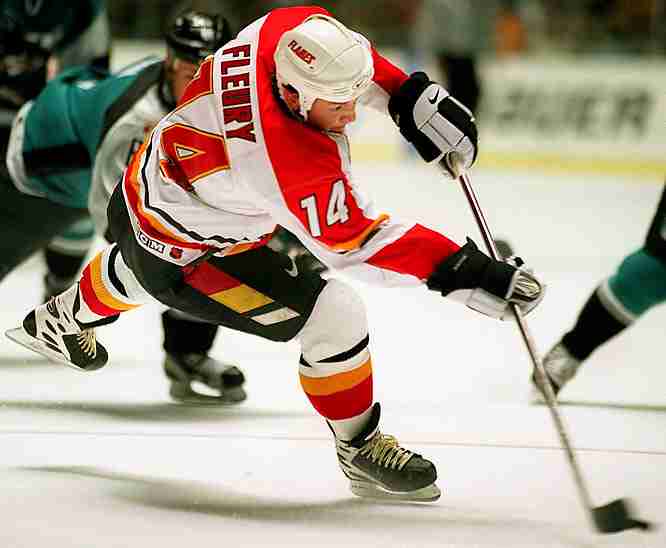 Is it possible to be one of the more inspirational players in hockey history yet have a career that is a somewhat cautionary tale to young players? With Theoren Fleury the answer appears to be yes.
At 5 ft 6, Fleury wasn't supposed to make the NHL, let alone score over 1,000 points in the elite professional league in Hockey. He overcame those odds and not only was he among the smallest players in the league (at times he was in fact the shortest), he was constantly among the elite. He was scrappy and feisty and his never say die attitude was inspirational to smaller players who wanted to compete. Perhaps with a bit of a Napoleon Complex, Fleury was a constant agitator and was a scorer who spent his fair share of time in the penalty box.
Theoren Fleury was not just battling larger foes on the ice. He battled alcohol and drug addictions and even though he had a very long and productive career, many have said that it could have been extended had been able to conquer his demons. Currently, Fleury seems to have gotten his life back in order and as such, could become an inspirational figure again. If voters concentrate on his work in the rink and not his problems off of it, the scrappy Saskatchewan native could very well be enshrined.
The Bullet Points:
Country of Origin:
Oxbow, Saskatchewan, Canada
Eligible Since:
2006
Position:
Right Wing
Played for:
Calgary Flames
Colorado Avalanche
New York Rangers
Chicago Blackhawks
Team Canada (Canada Cup 1991, World Cup 1996, Olympics 1998 & 2002)
Major Accolades and Awards:
NHL All Star 1991, 1992, 1996, 1997, 1998, 1999 & 2001
Stanley Cup Ring (1989) Calgary
Olympic Gold Medal (2002) Canada
Should Theoren Fleury be in the Hall of Fame?
Definitely put him in! - 72.7%
Maybe, but others deserve it first. - 27.3%
Probably not, but it wouldn't be the end of the world. - 0%