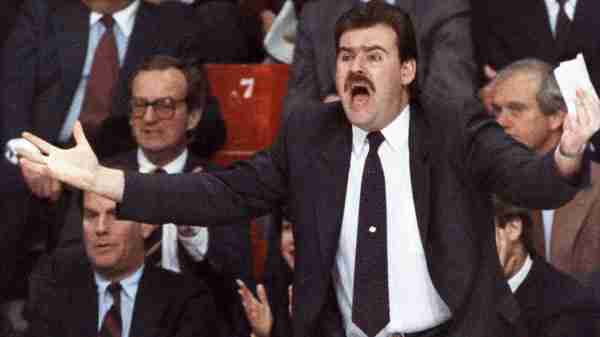 Despite our selection of Don Cherry as our top choice to enter the Hockey Hall of Fame, we did not look to extend this list to coaches. As explained by the Cherry selection, he wasn't allotted the spot due to his work behind the bench, but rather his antics in front of the camera. There is no doubt here that Pat Burns is making our list for his work as a Head Coach.
As many reading this knows, Pat Burns recently passed away and was the focal point of an online campaign to get him into the Hall of Fame before he died. The campaign was not based on sympathy, as Burns was a successful coach who was a three time Jack Adams Award winner for Coach of the Year and once led his squad (New Jersey) to a Stanley Cup. Pat Burns was tough, respected and beloved; a rare triumvirate for any Head Coach. Detractors of Pat Burns may have pointed at his lone Cup win, but he had consistently overachieved with his squads and considering his health forced him to walk away from the game in his mid 50's, it is very conceivable that he had more accolades ahead of him. Sadly, should he attain the Hall of Fame tribute, it will seem bittersweet.
The Bullet Points:
Country of Origin:
Montreal, Quebec, Canada
Position:
Head Coach
Played for:
N/A
Major Accolades and Awards:
Jack Adams Award (3) (1989, 1993 & 1998)
Stanley Cup Ring (2003) New Jersey
Should Pat Burns be in the Hall of Fame?
Definitely put him in! - 50%
Maybe, but others deserve it first. - 40%
Probably not, but it wouldn't be the end of the world. - 10%