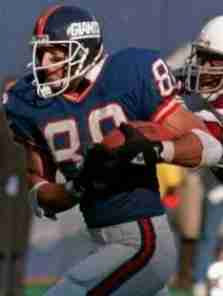 For two years there was no better Tight End in the NFL than Mark Bavaro. He may have been a quiet man off the field but he was arguably the most intense man on it.
In Mark Bavaro's sophomore season, he took over the Tight End position for the New York Giants and became a frequent target of Phil Simms. Bavaro not only blossomed as a receiver, but he was easily the best blocking Tight End in the league. That year, he was a pivotal part of the New York Giants run to the Super Bowl and was the heart of the Giants offence. Less than two years later, a degenerative knee condition hampered his ability to be productive on the field, but nobody could ever question the effort he put on every play.
The question is does those two nearly perfect seasons at the Tight End position equate to a Hall of Fame career? Probably not, but to those who still wear his throwback jersey, they remember him as one of the toughest players of all time.
The Bullet Points:
Country of Origin:
Winthrop, Massachusetts, U.S.A.
Eligible Since:
2000
Position:
Tight End
Played for:
New York Giants
Cleveland Browns
Philadelphia Eagles
College:
Notre Dame
Drafted:
4th Round, 100th Overall in 1985
Major Accolades and Awards:
Pro Bowl Selections (2) (1986 & 1987)
First Team All Pro Selections (2) (1986 & 1987)
Super Bowl Rings (2) (New York Giants, Super Bowl XXI & XXV)
Other Points of Note:
Top Ten Finishes: Receiving Touchdowns (1) (1987)
Top Ten Finishes: Receiving Yards/Game (1) (1987)
Top Ten Finishes: Touchdowns (1) (1987)
Notable All Time Rankings:
None
Years Nominated for the Hall of Fame:
Never
Should Mark Bavaro be in the Hall of Fame?
Definitely put him in! - 0%
Maybe, but others deserve it first. - 16.7%
Probably not, but it wouldn't be the end of the world. - 66.7%