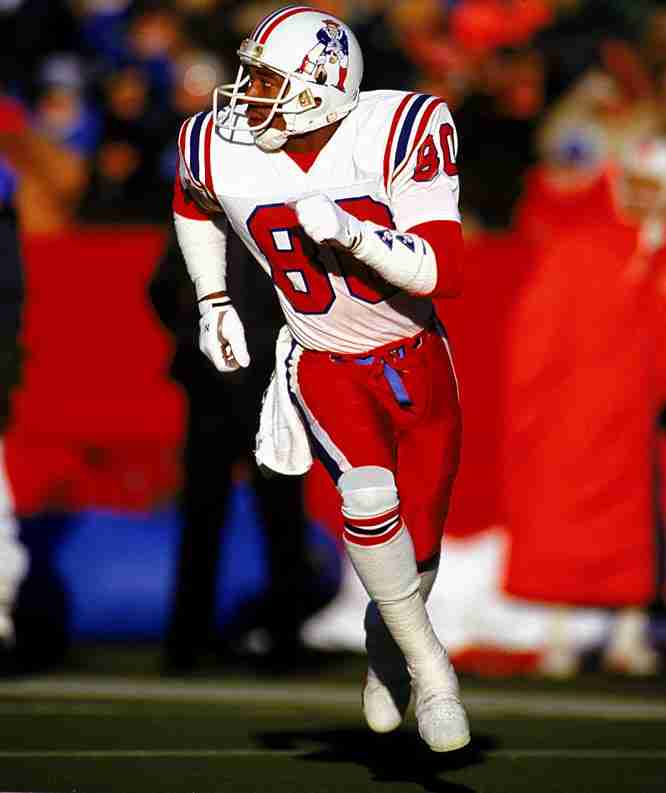 As the first overall pick in 1984, many expected Irving Fryar to be great right away. He wasn't, but his career showcased a slow climb to being one of the elite receivers in football, and a lot of times hearing his number called by broadcasters on Sunday afternoons.
Irving Fryar was always a good NFL receiver, but he became a go to Wide Receiver in his late 20's. It was between the ages of 29 and 35 that Fryar had his five 1,000 yard seasons and it was also at this time that he saw his name among the league leaders in receiving categories. Fryar holds the record for touchdown receptions from the most Quarterbacks (19) and with his emergence late in his career as a star; he rapidly climbed up the all time statistical ranks.
As good as Irving Fryar was, he never led a major offensive category and was never named to a First Team All Pro team. Chances are that Fryar would have had to that at least once to be considered a viable Hall candidate as despite his career numbers his name does not come often in the Canton conversation.
The Bullet Points:
Country of Origin:
Mount Holly, New Jersey, U.S.A.
Eligible Since:
1984
Position:
Wide Receiver
Played for:
New England Patriots
Miami Dolphins
Philadelphia Eagles
Washington Redskins
College:
Nebraska
Drafted:
1st Round, 1st Pick in 1984
Major Accolades and Awards:
Pro Bowl Selections (5) (1985, 1993, 1994, 1996 & 1997)
Second Team All Pro Selections (2) (1985 & 1994)
Other Points of Note:
Top Ten Finishes: Receptions (2) (1996 & 1997)
Top Ten Finishes: Receiving Yards (4) (1993, 1994, 1996 & 1997)
Top Ten Finishes: Receiving Touchdowns (1) (1996)
Top Ten Finishes: Receiving Yards/Game (3) (1994, 1996 & 1997)
Top Ten Finishes: Touchdowns (1) (1996)
Notable All Time Rankings:
13. Receiving Yards: 12,785
14. Receiving Touchdowns: 84
17. Receptions: 851
20. All Purpose Yards: 15,587
29. Punt Return Yards: 2,055
33. Touchdowns: 88
38. Yards from Scrimmage: 13,027
Years Nominated for the Hall of Fame:
Never
Should Irving Fryar be in the Hall of Fame?
Definitely put him in! - 30%
Maybe, but others deserve it first. - 20%
Probably not, but it wouldn't be the end of the world. - 10%