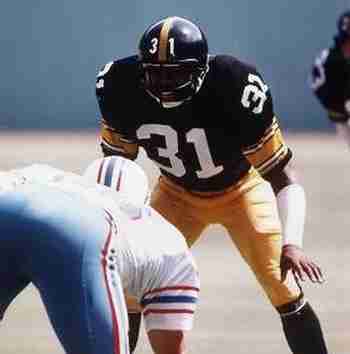 An earlier entry depicts how L.C. Greenwood could be the tenth member of the Steeler dynasty to receive a bust in Canton. If it isn't Greenwood, a case could be made for Donnie Shell, the spectacular Strong Safety who also has four Super Bowl Rings.
Shell went undrafted in 1974 but signed on the Pittsburgh Steelers as a Free Agent. He scratched and clawed his way onto the main roster and by 1977 he was the regular Strong Safety and preventing touchdowns on a regular basis. Like many Steelers, he saved his best performances for the clutch and all of his Super Bowl performances were stellar.
As a member of the great Pittsburgh teams, Shell has seen many of his teammates enshrined in Canton. It would be easy to suspect that he may never get in due to the belief that the Steelers have been represented enough.
The Bullet Points:
Country of Origin:
Whitmire, South Carolina, U.S.A.
Eligible Since:
1993
Position:
Strong Safety
Played for:
Pittsburgh Steelers
College:
South Carolina State
Drafted:
Undrafted in 1974
Major Accolades and Awards:
Pro Bowl Selections (5) (1978, 1979, 1980, 1981 & 1982)
First Team All Pro Selection (3) (1979, 1980, & 1982)
Second Team All Pro Selection (1) (1981)
Super Bowl Rings (4) (Pittsburgh Steelers, Super Bowl, IX, X, XIII & XIV)
Other Points of Note:
Top Ten Finishes: Interceptions (3) (1980, 1982 & 1984)
Notable All Time Rankings:
29. Interceptions: 51
Years Nominated for the Hall of Fame:
Finalist: 2002
Semi Finalist: 2004
Should Donnie Shell be in the Hall of Fame?
Definitely put him in! - 33.3%
Maybe, but others deserve it first. - 44.4%
Probably not, but it wouldn't be the end of the world. - 11.1%