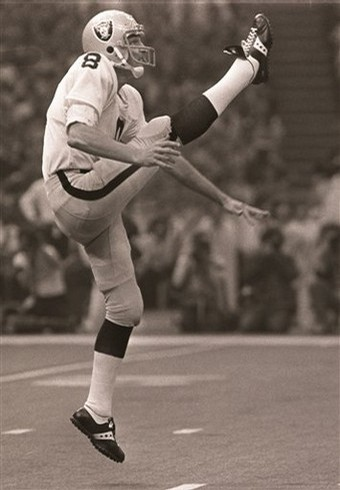 Currently there is no Punter in the Football Hall of Fame. Whether or not that ever happens remains to be seen, but if one man has a shot it would be Ray Guy.
Ray Guy made headlines when he became the first punter drafted in the first round. Guy proved worthy of the trust that the Raiders put in him as his booming and accurate kicks altered the way that aspect of special teams was thought of. Guy's punts were not just powerful; they had long hang time and could be deadly accurate when needed. Punters were not ever thought of with the ability to win games, but there were occasions that Guy's leg did just that for the Raiders.
Nobody doubts that Ray Guy was not the best punter of all time. The doubt is whether any punter deserves to be in Canton.
The Bullet Points:
Country of Origin:
Swainsboro, Georgia, U.S.A.
Eligible Since:
1992
Position:
Punter
Played for:
Oakland/Los Angeles Raiders
College:
Southern Mississippi
Drafted:
1st Round, 23rd Overall in 1973
Major Accolades and Awards:
Pro Bowl Selections (7) (1973, 1974, 1975, 1976, 1977, 1978 & 1980)
First Team All Pro Selection (6) (1973, 1974, 1975, 1976, 1977 & 1978)
Second Team All Pro Selection (2) (1979 & 1980)
NFL 75th Anniversary Team
NFL 1970's All Decade Team
Most Sacks (2) (1994 & 1996)
Other Points of Note:
None
Notable All Time Rankings:
None
Years Nominated for the Hall of Fame:
Finalist: 1992, 1995, 1997, 1999, 2002, 2007 & 2008
Semi Finalist: 2004, 2005, 2006, 2009 & 2010
Should Ray Guy be in the Hall of Fame?
Definitely put him in! - 70.6%
Maybe, but others deserve it first. - 17.6%
Probably not, but it wouldn't be the end of the world. - 0%