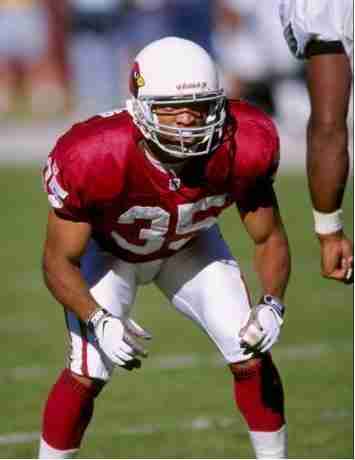 Although it has not completely shown in the desert, the Cardinals are a long and storied franchise. It is possible that since their move to Arizona that the best player that they ever had on the defensive side of the ball was Aeneas Williams.
The Cardinals have been better in recent years but during Williams' tenure there they only had one winning season. As the team's top cornerback, Williams played the shutdown role perfectly, but as the bright spot of the Cardinals defense, he was avoided where possible by opposing offensive coordinators. Williams would lead the league in picks in 1994 and is the current all time leader in fumble return yards.
Williams was a semi finalist in his first year of eligibility and his career stats indicate that his chances could improve. Had he ever played on a winner, he might have been a finalist already.
The Bullet Points:
Country of Origin:
New Orleans, Louisiana, U.S.A.
Eligible Since:
2010
Position:
Left Cornerback
Played for:
Phoenix/Arizona Cardinals
Los Angeles Rams
College:
Southern
Drafted:
3rd Round, 59th Overall in 1991
Major Accolades and Awards:
Pro Bowl Selections (8) (1994, 1995, 1996, 1997, 1998, 1999, 2001 & 2003)
First Team All Pro Selection (3) (1995, 1997 & 2001)
Second Team All Pro Selection (1) (1994)
NFL 1990's All Decade Team
Most Interceptions (1) (1994)
Other Points of Note:
Top Ten Finishes: Interceptions (5) (1991, 1994, 1995, 1996 & 1997)
Notable All Time Rankings:
3. Interception Return Touchdowns: 9
18. Interceptions: 55
23. Yards Returned From Interceptions: 807
Years Nominated for the Hall of Fame:
Semi Finalist: 2010
Should Aeneas Williams be in the Hall of Fame?
Definitely put him in! - 14.3%
Maybe, but others deserve it first. - 57.1%
Probably not, but it wouldn't be the end of the world. - 14.3%