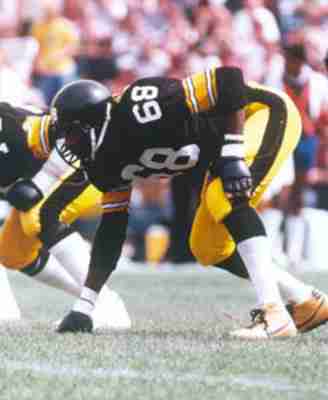 With nine members of the 1970's Pittsburgh Steelers already in the Football Hall of Fame, you would think that the team that won four Super Bowls in that decade would be sufficiently represented in Canton. Some have said that they have the right amount, but the wrong representatives. Those people point to L.C. Greenwood as the omission.
As a member of the famed Steel Curtain, L.C. Greenwood was part of the most dominating defense in football history that propelled the Steelers to four Super Bowls in a five year period. Greenwood was a big part of that dynasty as he was a six time Pro Bowl selection who terrified opposing Quarterbacks. Although the sack was not yet an official statistic, Greenwood totaled five of them in his four Super Bowls. He was tall, fast and was seemingly everywhere on the field.
L.C. Greenwood was a Hall of Fame finalist six times but has yet to make the cut. Should another 1970's Steeler get in, it would have to be Mr. Greenwood.
The Bullet Points:
Country of Origin:
Canton, Mississippi, U.S.A.
Eligible Since:
1987
Position:
Left Defensive End
Played for:
Pittsburgh Steelers
College:
Arkansas-Pine Bluff
Drafted:
10th Round, 238th Overall in 1969
Major Accolades and Awards:
Pro Bowl Selections (6) (1973, 1974, 1975, 1976, 1978 & 1979)
First Team All Pro Selection (2) (1974 & 1975)
NFL 1970's All Decade Team
Super Bowl Rings (4) (Pittsburgh Steelers, Super Bowl IX, X, XIII & XIV)
Other Points of Note:
None
Notable All Time Rankings:
None
Years Nominated for the Hall of Fame:
Finalist: 1991, 1995, 1996, 2002, 2005 & 2006
Semi Finalist: 2004
Should L.C. Greenwood be in the Hall of Fame?
Definitely put him in! - 66.7%
Maybe, but others deserve it first. - 22.2%
Probably not, but it wouldn't be the end of the world. - 5.6%