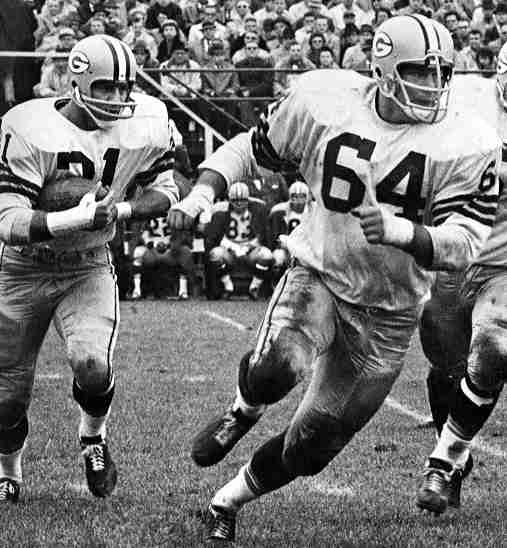 Jerry Kramer was nominated for the Football Hall of Fame in his first year of eligibility in 1974. Over thirty five years later he is still waiting from that call from Canton, Ohio.
Jerry Kramer was a bruising offensive lineman who was part of seven championship Green Bay Packer teams; including the first two Super Bowls. He was the key part of the "Packer Sweep" where he and the other guard would lead block to the right side. He was considered by his teammates and coaches
(including the legendary Vince Lombardi) to be one of the most resilient and toughest in the league as evidenced by the numerous injuries he returned from. He was a legendary blocker and his famous block that allowed Bart Starr in the final seconds to win the "Ice Bowl" is still part of Lambeau lore.
Accolades were not foreign to Kramer. He was one of the elite few to be named to the NFL 50th Anniversary Team, though he is the only football player named to that honor that never received a Hall of Fame induction. Kramer also was a member of the 1960's decade team and his post season honors were also bountiful.
So just why has Jerry Kramer been left out of the Hall? Offensive Linemen are well represented in Canton, so it is not his position. Could it be that so many from those championship Packer teams are in, that they felt Kramer didn't make the cut? Could it be a subconscious backlash as Kramer was a decent writer who articulated the Packers titles brilliantly in print and was thus accused of being too much of a self promoter? The mystery continues, and in addition to the large contingent who feel that this is the greatest snub from the Football Hall of Fame, he has now emerged at number one on our revised Football list. Wake up Canton!
The Bullet Points:
Country of Origin:
Jordan, Montana, U.S.A.
Eligible Since:
1974
Position:
Right Guard/Kicker
Played for:
Green Bay Packers
College:
Idaho
Drafted:
4th Round, 39th Overall in 1958
Major Accolades and Awards:
Pro Bowl Selections (3) (1962, 1963 & 1967)
First Team All Pro Selection (5) (1960, 1962, 1963, 1966 & 1967)
Second Team All Pro Selection (1) (1968)
NFL Championships (5) (1961, 1962, 1965, 1966 & 1967)
Super Bowl Rings (2) (Green Bay Packers, Super Bowl I & II)
NFL 1960's All Decade Team
NFL 50th Anniversary Team
Other Points of Note:
Member of the Green Bay Packers Hall of Fame
Notable All Time Rankings:
None
Years Nominated for the Hall of Fame:
Finalist: 1974, 1975, 1976, 1978, 1979, 1980, 1981, 1984 & 1987
Senior Finalist: 1997
Should Jerry Kramer be in the Hall of Fame?
Definitely put him in! - 83.3%
Maybe, but others deserve it first. - 11.1%
Probably not, but it wouldn't be the end of the world. - 0%