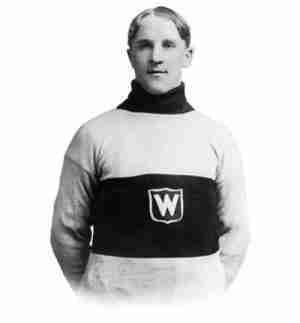 A gifted scorer for the Montreal Wanderers dynasty that won four Stanley Cups in the late 1900's,
Thomas "Moose" Johnson
essentially had two distinct careers in organized hockey. Johnson moved west to the Pacific Coast Hockey Association and shifted from Left Wing to Defense yet remained a perennial All Star. His other claim to fame was the use of what is believed to be the longest stick in history (there were no regulations at the time) which gave him a reported 99 inch reach.