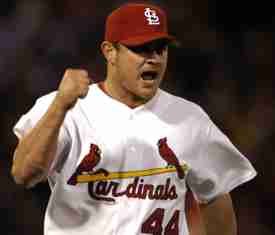 As part of the New York Mets' "Generation K", much was expected of Jason Isringhausen and though he did not meet expectations as a Starting Pitcher, he did become a very effective Relief Pitcher, making two All Star Games, and leading the National League in Saves in 2004. Isringhausen would record 300 career Major League Saves in total, and another 11 in the Post Season.
The Bullet Points:
Country of Origin:
U.S.A. (Brighton, IL)
Eligible In:
The 2018 Vote
Position:
Pitcher
Played For:
New York Mets
Oakland A's
St. Louis Cardinals
Tampa Bay Rays
Los Angeles Angels
Major Accolades and Awards:
3 Time All Star (2000 & 2005)
Most Saves (1) (NL) (2004)
World Series Rings (None)
Other Points of Note:
6 Top Ten Finishes (Saves)
Notable All Time Rankings:
24. Saves: 300
79. Games Played: 724
Should Jason Isringhausen be in the Hall of Fame?
Definitely put him in! - 25%
Maybe, but others deserve it first. - 37.5%
Probably not, but it wouldn't be the end of the world. - 25%