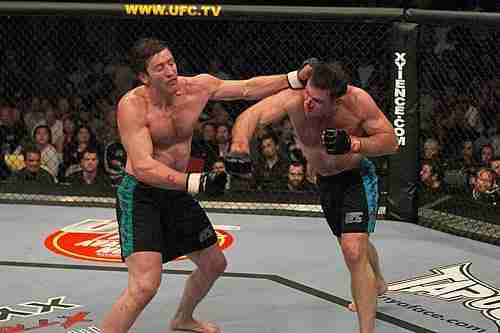 We make no claim to understand the criteria or the process for getting into the UFC Hall of Fame. Best we can tell, the decision is an arbitrary one made by the President of UFC, Dana White. As it is a relatively new sport, the Hall of Fame understandably has only a few members, all of which are relatively young and only out of the sport for a short time. As such, when the UFC announces that it will induct new fighters, they are usually fresh out of the sport, as is the case with the two new inductees announced this past weekend.
Actually, the two fighters in question have been tied together since they both emerged on the scene. Forrest Griffin and Stephen Bonnar fought each other in the finals of the first season of the Ultimate Fighter and the two had what is still considered the greatest fight in Mixed Martial Arts history. It was not just a great fight, but a contest that was a landmark in the sport and spiked interest in the UFC organization. Griffin won the decision, and would go on to win the promotion's Light Heavyweight Championship. Bonnar would also have a solid career in UFC, though he never won a championship. He would finish with an 8-7 record in UFC, where he recently made headlines for testing positive for steroids after a match with Anderson Silva.
As Bonnar was never a champion, we have to wonder how he makes the UFC Hall of Fame, especially a career that observers of the sport have characterized as "up and down". Again, this is an organization whose Hall of Fame is far from transparent, and probably won't be any time soon.
Both Griffin and Bonnar will be inducted at the Fan Expo at UFC 162 this July.