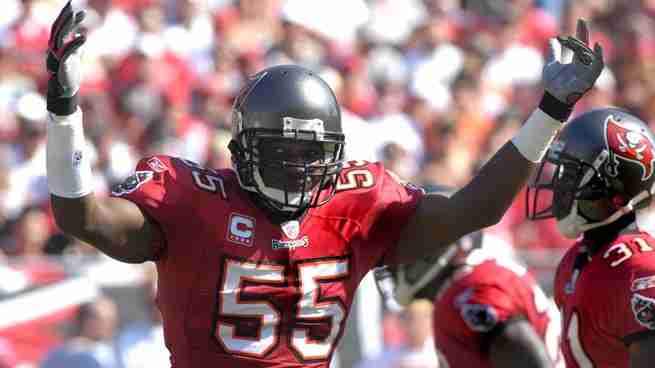 Derrick Brooks entered the Football Hall of Fame in his first year of eligibility, much like his long time defensive teammate with the Tampa Bay Buccaneers, Warren Sapp did. The Bucs have announced that just as they did Sapp, they will be retiring his number 55, this season on the September 14th game at home against the St. Louis Rams.
Brooks will become the third player in Buccaneers history to receive this prestigious accolade. The first was Lee Roy Selmon, who was the 1979 Defensive Player of the Year and was there from 1976 to 1984. No other player in Bucs history ever wore his number 63. The second was Sapp, who also won the Defensive Player of the Year, which occurred in 1999. Sapp's number 99, was taken officially off the Buccaneer market last season.
Derrick Brooks was the third Tampa Bay Buccaneers player to win the NFL Defensive Player of the Year and coincidentally, he is the third to have his number retired. A member of Tampa's lone Super Bowl win in 2002, the Linebacker was a nine time All-Pro, an eleven time Pro Bowl Selection and a member of the NFL 2000's All Decade Team.
As we have mentioned, we are in the process of working on looking at all the major North American Franchises and how they honor those via retired numbers, Rings of Honor and franchise Halls of Fames. We would like to congratulate both the Tampa Bay Buccaneers and Derrick Brooks at this time.