Category: Kidd's Corner Created on Tuesday, 26 June 2012 11:10 Written by NHLKiDD Hits: 2077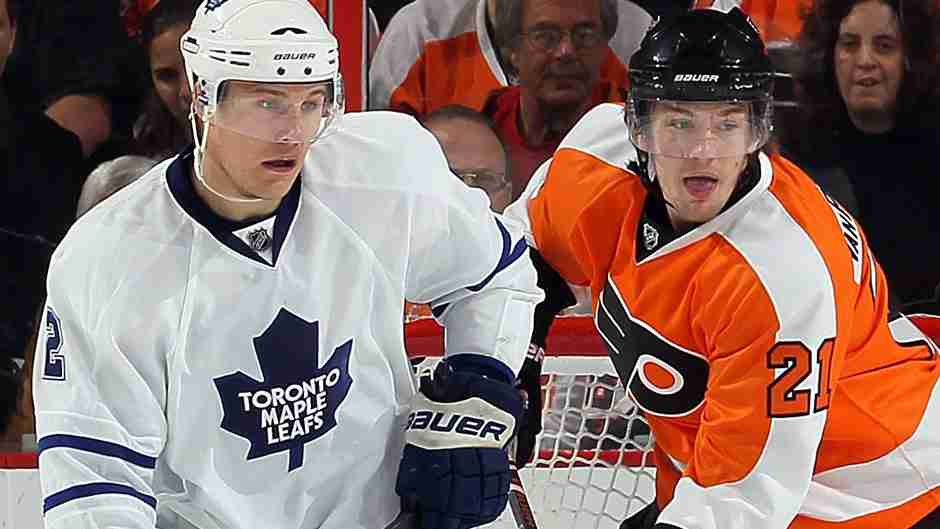 Both teams went into the draft with their respective teams looking for something. The Leafs were seeking a top line center (among other things) and the Flyers a top 4 defenseman. Oddly enough, with the 5th overall pick, the Maple Leafs selected puck-moving defenseman in Morgan Rielly. In Turn, with the 20th overall pick, the Flyers selected gritty two-way center Scott Laughton. Obviously after the first round, both teams still needed to address their gaping needs.
Enter the trade. Schenn for JVR.
James van Riemsdyk, although not a Center, is still an incredible addition to the Leafs' lineup. Although JVR was one of the reasons the Flyers felt comfortable dealing franchise centerpieces Mike Richards and Jeff Carter just one year prior, the 23 year old, 6'3" 190 lbs winger has been a bit of a disappointment in Philly. High hopes of a big breakout season last year were hampered by a list of injuries including hip, foot, and head. When on top of his game, van Riemsdyk can control the ice, creating space with his size, setting up plays with his great vision, and finishing big goals from in close or from a distance.
In a Monday interview with Cybulski and Company on TSN 1050 Toronto, JVR said that there is a chance he will be tried out at center, and perhaps play in between Phil Kessel and Joffrey Lupul on the Leafs top unit. He would add a great combination of speed, size, and strength to the line and would help get Kessel some more space. If he can make the jump to the middle of the ice, this could prove to be one of, if not the, best line in hockey. Lupul and Kessel had fantastic seasons with virtually no center in Tyler Bozak.
Luke Schenn comes to Philadelphia in what he calls almost a dream come true as he is united with his younger brother Brayden (acquired by the Flyers in the MikeRichards trade a year ago). Although Luke Schenn won't fill the hole left behind by future hall of famer Chris Pronger, he does bring some of the same qualities to the Flyers as the former Captain. The 22 year old only finished -6 on a team that let in a ton of goals. But what the Flyers love most is the fact that he is 6'2", 230 lbs. and is a much needed right-handed shot. And that other stat, he led all defensemen in hits and was 7th overall among players with 270. His cap hit comes in less than that of JVR and will be a perfect fit for the young Flyers locker room.
Many people are trying to figure out who the winners and losers are in the deal. There are many ways to judge a trade. Players output, fit on a roster, cap hit, contract length, age, return on investment. In my eyes these two players are almost mirror images of one another in many ways. No matter what way you bend or shake this trade, it looks like both teams win. They both get a young talented player, drafted high, who has already proven they can play in a big market. Neither is afraid of the spotlight, as they both have been considered the future and centerpiece of their former franchise. Also both of these players fell short of the incredibly high expectations for such young players and have been referred to as disappointments, and maybe even busts. But I would disagree.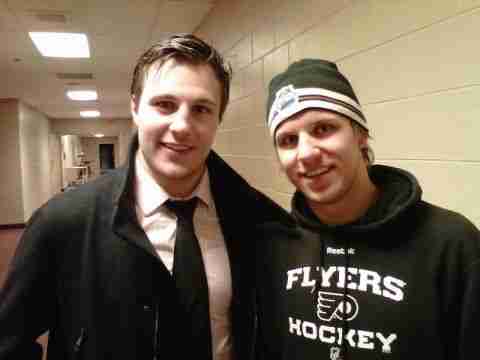 My final analysis is that both players were in need of a change. It was no secret that JVR was on the way out. The fans were getting tired of waiting for him, but more importantly so was GM Paul Holmgren. He wasn't fitting into the plans of the Flyers anymore because when he was out with injury Brayden Schenn and Sean Couturier took the reigns and won over the staff and the fans. Now as a Flyers fan, I hate to see JVR go. He is going to be an elite forward, maybe as early as next year. His offensive prowess and size is a perfect fit in Toronto and the crowd will love him. He could be the forward that brings them to the next level.
Luke on the other hand fell victim to being thrown into the league far too young. The expectations in the Toronto media were far too high for any 18 year old and they were impossible to live up to. They turned on him and scrutiny in the media lead him over think plays, creating even more mistakes. Rifts in the dressing room didn't help matters - rumor has it that team captain, Dion Phaneuf, and Schenn don't see eye to eye, and are not on speaking terms. That being said I have always been a fan of both Schenn brothers. Luke's size and aggression will be fantastic in Philly and will get the crowd on their feet every night. Playing with his younger brother will only help elevate his game. Leafs' former coach Ron Wilson (American) once said he was pulling for Canada in the WJHC, because if younger brother Brayden lost, Luke would be depressed for weeks. No better place to unite the Schenns than in the City of Brotherly Love - Philadelphia.
Fictitious Athlete Hall of Fame
Fictitious Rock and Roll Hall of Fame