Roy Oswalt and Andy Pettitte
Speaking of PED, that is an issue that
Andy Pettitte
must face as he begins his time on the BBWAA ballot: Named in the 2007 Mitchell Report as a PED user along with former teammate and friend Roger Clemens, Pettitte acknowledged using human growth hormone (HGH) to expedite his recovery from an elbow injury in 2002, and although he subsequently denied any further PED use, he then admitted to using HGH again in 2004; meanwhile, Pettitte's relationship with Clemens took a nosedive following their conflicting remarks during investigations. In 2008, Pettitte apologized publicly for his past PED usage.
Whether Andy Pettitte must apologize for his record as a left-handed starting pitcher is of more interest here.
I profiled Pettitte in a 2013 article titled "Pitching Wins: A Ticket to the Baseball Hall of Fame?

,"
concluding that Pettitte does not reach the threshold despite ranking 42nd in all-time wins with 256. Does that assessment hold up four years later, as Pettitte is soon to appear on his first Hall of Fame ballot?
Pettitte's career coincided with the mid-1990s ascendancy of the New York Yankees, with whom Pettitte won five World Series rings starting in 1996, his second year in the Majors, and in that age-24 season he led the American League by winning 21 games against only eight losses for a .724 winning percentage while posting a 3.87 ERA. Along with relief pitcher Mariano Rivera, catcher Jorge Posada, and shortstop Derek Jeter, Pettitte formed the "Core Four" that led the Yankees to seven AL pennants and seven World Series appearances, winning five of those. (Pettitte also reached the World Series in 2005 with the Houston Astros, where he was reunited with Clemens; the Astros were swept by the Chicago White Sox.)
In 1996, the Toronto Blue Jays' Pat Hentgen edged him out for the AL Cy Young Award, and bWAR, admittedly a retrospective assessment, favors Hentgen as the right-hander, who won 20 games against only 10 losses for a Blue Jays team that finished eight games below .500, was worth about three wins better than Pettitte with an 8.5 bWAR compared to Pettitte's 5.6; Hentgen's ERA of 3.22 was about a half-run better than the Yankees southpaw while Hentgen led the Major Leagues with 10 complete games and three shutouts. (The Toronto workhorse also led the Majors with 265.2 innings pitched, almost unheard-of these days.)
Pettitte finished in the top ten of Cy Young voting four more times, and in none of those instances was he unfairly overlooked, although his fifth and last appearance on the Cy Young leaderboard in 2005 is both notable and instructive. He won 17 games and lost just nine, for a .654 winning percentage, while he posted a career-best 2.39 ERA, only the second time he notched an ERA under 3. Yet he was still overshadowed even on his own team, the Astros, by Roy Oswalt, a 20-game winner (20–12, .625) with a 2.94 ERA, and by Clemens, who posted a 1.87 ERA despite winning only 13 games as the Astros were blanked in nine games that Clemens started, an indication of how the offense struggled to score runs for him.
Similarly with the comparison to Hentgen in 1996, this illustrates how throughout his career, Pettitte has never been the staff ace, or has never had the truly standout season indicative of a dominant pitcher. Indeed, throughout his career, Pettitte has pitched for strong teams that, overall, have scored an average of 5.4 runs in games that Pettitte started and an average of 5.1 runs in the innings that he actually pitched in those games; MLB averages during that time were 4.7 runs and 4.5 runs, respectively. In 521 career starts, Pettitte left 41 games in which he was in line to lose, but his team came back to at least tie the game, thus negating the potential loss. In fairness, Pettitte left 36 games in which he was in line to win, but the bullpen allowed the other team to at least tie the game, thus depriving him of the win.
In 521 starts and 3316 total innings pitched, Pettitte pitched just 26 complete games while recording only four shutouts. His entire career occurred in an era of interventionist bullpens, and the perception that a starting pitcher was expected to "gut it out" for the entire game began to disappear around the time that rotary telephones were also disappearing. So, although Pettitte does seem like a hothouse flower built to deliver six or seven innings before yielding to the bullpen, he should not be faulted for not racking up complete games.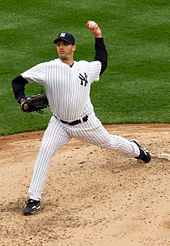 One of the Yankees' "Core Four," is Andy Pettitte distinguished enough for the Hall of Fame?
But in comparison with active and recently retired pitchers, Pettitte does not look like a "big game" pitcher, one whom his manager would keep in the game to earn a complete game or, even better, a shutout. The following table ranks selected pitchers active through the 2017 season and recently retired pitchers by career complete games and career shutouts. (Pitchers discussed in this article are marked in
bold italic
.)
Selected Pitchers Active through 2017 and Recently Retired, Ranked by Complete Games and by Shutouts. Pitchers Discussed in This Article in Bold Italic.





GS


CG





GS


SHO


Halladay, Roy


390


67


Halladay, Roy


390


20


+ Sabathia, C.C.


509


38


Carpenter, Chris


332


15


+ Colon, Bartolo


528


37


+ Kershaw, Clayton


290


15


Buehrle, Mark


493


33


+ Colon, Bartolo


528


13


Carpenter, Chris


332


33


Hudson, Tim


479


13


Moyer, Jamie


638


33


Lee, Cliff


324


12


Lee, Cliff


324


29


+ Sabathia, C.C.


509


12


Hudson, Tim


479


26


+ Hernandez, Felix


375


11


Pettitte, Andy


521


26


+ Santana, Ervin


376


11


+ Hernandez, Felix


375


25


Buehrle, Mark


493


10


+ Kershaw, Clayton


290


25


Burnett, A.J.


430


10


Burnett, A.J.


430


24


Moyer, Jamie


638


10


+ Shields, James


372


23


Santana, Johan


284


10


+ Verlander, Justin


385


23


+ Wainwright, Adam


277


10


+ Wainwright, Adam


277


22


+ Shields, James


372


9


+ Santana, Ervin


376


21


+ Cain, Matt


331


6


Oswalt, Roy


341


20


+ Cueto, Johnny


283


8


+ Lackey, John


446


18


+ Lackey, John


446


8


+ Cueto, Johnny


283


17


Oswalt, Roy


341


8


+ Arroyo, Bronson


383


16


+ Weaver, Jered


331


8


+ Greinke, Zack


381


16


+ Hamels, Cole


362


7


+ Hamels, Cole


362


16


+ Verlander, Justin


385


7


+ Bumgarner, Madison


231


15


+ Arroyo, Bronson


383


6


+ Cain, Matt


331


15


+ Bumgarner, Madison


231


6


+ Dickey, R.A.


300


15


+ Dickey, R.A.


300


6


+ Lester, Jon


348


15


+ Nolasco, Ricky


312


6


Santana, Johan


284


15


+ Greinke, Zack


381


5


+ Weaver, Jered


331


14


+ Garza, Matt


284


4


+ Nolasco, Ricky


312


12


+ Lester, Jon


348


4


+ Garza, Matt


284


10


Pettitte, Andy


521


4


+ Jimenez, Ubaldo


315


9


+ Scherzer, Max


296


4


+ Active through 2017.
In both complete games and shutouts, Roy Halladay is the clear outlier,
and as I concluded in 2013
, Halladay should be a very likely Hall of Fame inductee not very long after he becomes eligible. Halladay's 67 complete games and 20 shutouts, accomplished in just under 400 games started, sets a standard that no other pitcher in this sample can match, particularly in complete games as his closest competition are C.C. Sabathia and Bartolo Colon, both of whom needed more than 500 starts to get within 30 complete games of Halladay.
Similarly, Clayton Kershaw, who lags in complete games—although he is likely to match and even pass Pettitte next season—nevertheless has collected 15 shutouts in just under 300 games. Kershaw, whose age-30 season doesn't even start until next year, is already considered a Hall of Fame pitcher, and he might be an unfair comparison to Pettitte. Or not. It takes an exceptional pitcher to get into the Hall of Fame, and while complete games and shutouts are not definitive, they are indicative of pitching dominance in the sense that managers are willing to let his pitcher finish what he started, an increasingly rare occurrence in the era of interventionist bullpens. For example, Madison Bumgarner, in less than half of the starts Pettitte had, already has more than half of Pettitte's career complete games and has passed him for career shutouts while going into his age-28 season next year—and his value to the San Francisco Giants was proved in the 2014 postseason, as he was named the Most Valuable Player in both the National League Championship Series and the World Series. (Although after the 2017 season, the Giants might now forbid him from riding dirt bikes.)
Pettitte, too, has a reputation as a postseason pitcher: In 2001, he was named the MVP for the American League Championship Series when he won both his starts against the Seattle Mariners, striking out eight and allowing just 11 hits, none of them a home run, two walks, and four earned runs in 14.1 innings for a 2.51 ERA. Pettitte is the career leader in postseason games started (44), innings pitched (276.2), and wins (19) and has combined with reliever Mariano Rivera to generate 11 win-save combinations in the postseason. Pettitte's postseason win-loss record is 19–11 (.633) with a 3.81 ERA while just in the World Series he has a 5–4 mark (.556) with a 4.06 ERA. Pettitte has no complete games in the postseason, although that is not a demerit by any means.
Pettitte ranks 39th in career strikeouts (2448) and in games started (521), 42nd in wins (256), and 90th in innings pitched (3316). Among starting pitchers, JAWS ranks Pettitte 89th, tied with Sandy Koufax—which recalls the discussion above concerning Johan Santana. However, Pettitte, whose career was one-third longer than either Koufax's or Santana's, was nowhere near as dominant as either pitcher, having led the league in games started three times and wins once but was never considered the league's best pitcher in any year.
Among the Yankees' Core Four that led them to five world championships, there is a sharp dichotomy: Derek Jeter and Mariano Rivera are not only Hall of Fame players but will almost certainly be elected in their first year of eligibility. On the other hand, Jorge Posada, Pettitte's (and Rivera's) battery mate, was one-and-done in 2017, and although
I did not think that Posada rose to the Hall of Fame level
, he deserved more than a quick exit in his first year of eligibility.
Andy Pettitte is not likely either to exit on his first ballot or to collect at least 75 percent of the vote needed for Hall of Fame election. He was instrumental to the Yankees' 1990s success, but he was not essential to it, and his career similarly reflects that excellent but below-the-threshold caliber.
In 2001,
Roy Oswalt's
rookie season, the Houston Astros' efficient, effective right-hander won 14 games against only three losses for a National League-leading .824 win-loss percentage, posting a 2.73 ERA, a 2.84 FIP, and a 170 ERA+ with 144 strikeouts against just 24 walks in 141.2 innings pitched for a 9.1 strikeouts per nine innings ratio and a 6.00 strikeout-to-walk ratio. However, Oswalt had the misfortune to debut the same year as Albert Pujols, and he wound up as the runner-up to the St. Louis Cardinals' slugger in Rookie of the Year voting. Oswalt did finish fifth in Cy Young voting, in a year dominated by Hall of Famer Randy Johnson and current ballot resident Curt Schilling; it was the first of five seasons that Oswalt would finish in the top five for Cy Young voting.
For the first ten years of his career, from 2001 to 2010, Roy Oswalt won 150 games against just 83 losses for a sparkling .644 win-loss percentage (identical to the career win-loss record of Hall of Famer Dizzy Dean) while his run prevention was similarly impressive, posting a 3.18 ERA, a 3.34 FIP, and a 135 ERA+ as he struck out 1666 batters while walking 467 for a near-Schilling-like 3.57 strikeout-to-walk ratio. In that period, he had back-to-back 20-game seasons, in 2004 and 2005, the latter the only time the Astros have gone to the World Series (at least as a National League team); he won 15 or more games five times and posted an ERA under 3.00 five times including a league-leading 2.98 in 2006. In 2004 and 2005, he also led the NL—indeed, all of MLB—in starts with 35 in each season.
And although he pitched at least 200 innings in seven of those ten years, injuries were beginning to plague him. Oswalt pitched just 127.1 innings over 21 starts in 2003, and even though he rebounded over the next four seasons, he was dogged by injuries in 2006, 2007, and 2008, leading to a mediocre—for Oswalt—2009 season that saw his ERA crest above 4.00 for the first time in his career.
The Astros traded Oswalt to the Philadelphia Phillies midway through the 2010 season after he lost twice as many games, 12, than he had won although his ERA was a respectable 3.42 before the trade. However, the change of venue proved a tonic for him—with the Phillies he won seven of eight decisions including a shutout, the last of eight career blanks, while brandishing a 1.74 ERA in 82.2 innings.
Oswalt's 2011 marked the turning point in Roy Oswalt's career in a season that found him part of a Phillies rotation that included Roy Halladay, Cole Hamels, and Cliff Lee. He took a leave of absence early in the season following devastating tornado strikes in his home state of Mississippi, and later in the season he went on the disabled list with a back injury as he posted his first losing season, 9–10, although his ERA remained adequate at 3.69 while his 3.44 FIP suggested some bad luck with his fielders.
Nevertheless, the Phillies did not pick up his option for the 2012 season, and Oswalt, angling for a lucrative contract as a still-effective starter, signed with the Texas Rangers, debuting with them by mid-season and eventually winding up in the bullpen as he made only nine starts in 17 appearances. With a 5.80 ERA and a 76 ERA+—significantly below league-average—Oswalt, in his age-34 season, was coming to the end of his career. He signed with the Colorado Rockies for 2013, but after losing six games without a win and posting a bloated 8.63 ERA, he called it quits.
A three-time All-Star from 2005 to 2007, Oswalt had four years with a bWAR of 5.0 wins or greater including a 7.0 in 2002, when he won 19 games and lost just nine for a .679 win-loss percentage as his ERA was 3.01; he also struck out a career-high 208 batters, the first of two years with 200 or more strikeouts. He led the NL in winning percentage (.824) in 2001, in wins (20) in 2004, and in ERA (2.98) in 2006. Oswalt's 1852 career strikeouts rank 104th all-time although his most impressive career placements are in rate statistics: 25th in strikeouts-to-walks (3.56), 49th in ERA+ (127), 85th in win-loss percentage (.615), and 96th in strikeouts per nine innings (7.4), while his bWAR for pitchers of 49.9 ranks 105th, putting him truly on the bubble.
In the postseason, Oswalt had 13 appearances, 11 of those starts, as he posted a 5–2 win-loss record and a 3.73 ERA. He was the National League Championship Series Most Valuable Player in 2005 as he won both his starts against the St. Louis Cardinals, allowing just eight hits, one home run, and four walks in 14 innings while striking out 12, and the two runs (both earned) he gave up netted him a tiny 1.29 ERA.
Along with Roger Clemens and Andy Pettitte, Oswalt was part of the Astros' starting rotation that put Houston into the World Series for the first time in 2005, only to be swept by the Chicago White Sox, hungry for its first World Championship in 88 years. Oswalt went six innings in his only start, giving up five earned runs on eight hits, one home run, five walks, and one hit batsman; he cruised for the first four innings on the strength of a 4–0 lead, but then he coughed up five runs in the fifth although the Astros scored a run in the bottom of the eighth inning to tie the game, which the White Sox won with two runs in the 14th inning.
Roy Oswalt ranks 105th in Jay Jaffe's JAWS rating for starting pitchers, ahead of name-brand Hall of Fame pitchers Dizzy Dean, Bob Lemon, Chief Bender, Herb Pennock, Catfish Hunter, and Lefty Gomez, which might say more about evaluations of pitchers, past and present, than it does about Oswalt, an excellent pitcher for his first ten years but one not notable or durable enough to be considered a Hall of Famer.
Michael Young
Similarly,
Michael Young
could find his path littered with all kinds of obstructions even if, superficially, his career looks impressive. A lifetime .300 hitter who led the American League in batting in 2005, Young was also an unusual commodity in the current era, a franchise player as he toiled for all but one of his 14 years in the Majors for the Texas Rangers. Moreover, he proved himself versatile, playing all four infield positions although he played the most games at shortstop, having moved into the position in 2004 following Alex Rodriguez's departure to the New York Yankees.
Young had come up for a cup a coffee as a second baseman in 2000, his age-23 season, and the following year found him playing in 106 games, compiling a .249/.298/.402/.699 slash line with 11 home runs and 49 RBI in 429 plate appearances. He was the Rangers' regular second baseman in 2002, racking up 150 hits including 26 doubles and eight triples, while his efforts in 2003 earned him 204 hits and a .306 batting average, the first of six seasons with 200 or more hits and seven seasons with a .300 or better average (for seasons in which he qualified for a title).
For a nine-year period, from 2003 to 2011, Young's aggregate slash line was .311/.358/.461/.819, yielding an OPS+ of 111, as he averaged 202 hits, 38 doubles, and 17 home runs with 97 runs scored and 90 runs batted in every year. During that time, he was named to seven All-Star teams, six of those consecutively, won one Gold Glove, and finished in the top ten for Most Valuable Player twice while leading the Majors in hits twice and the American League in batting once. Young was in the top ten for hits in every year except 2009, although that year saw him fifth in batting with a .322 average, one of four seasons in which he finished in the top ten for batting average. This period also saw Young hit 30 or more doubles in every year, including a career-high 52 in 2006, as he also hit five or more triples four times.
With the reputation of a hitting machine, Young had five consecutive seasons with 200 or more hits, from 2003 to 2007, joining Wade Boggs and Ichiro Suzuki as only the third player to accomplish that feat since 1940 while becoming the only middle infielder besides Charlie Gehringer to do it. That is some distinguished company as Boggs and Gehringer are in the Hall of Fame, and Suzuki is certain to join them when he (eventually) retires.
Yet Michael Young's offensive prowess, impressive on the face of it, seems not to have a significant impact in terms of effectiveness and value. His career OPS+ of 104, and his career wRC+ of 104, are a few ticks above league-average, not an insult but also not the mark of a Hall of Fame-caliber player. Similarly, Young's offensive runs above average (RAA) of –56 puts him 56 runs
below
that of a league-average player. As a hitter, Young generated a career offensive Wins Above Replacement (oWAR) of 39.6, but with a career defensive Wins Above Replacement (dWAR) of –11.5, Young's overall bWAR (Baseball Reference version) is 24.2. FanGraphs is a bit more critical, calculating his fWAR at 23.8.
Still, Young was a middle infielder for much of his career, starting 776 games at shortstop and 433 games at second base, making 1209 of his 1764 starts (he also started 165 games as the designated hitter) around the keystone base. Does his defensive prowess add value?
That may be a leading question, as we just noted that his career dWAR is –11.5 wins—and that is the computation
after
the positional adjustment of +7.5 for a shortstop and +3.0 for a second baseman. Baseball Reference computes Young's total fielding runs above average as a shortstop at –48 runs and his defensive runs saves at –82 runs; as a second baseman, those totals are –17 and –11, respectively, while the 457 games he started at third base are even worse: –39 total fielding runs above average and –55 defensive runs saved. FanGraphs' Ultimate Zone Rating (UZR), which measures a fielder's defensive contributions, both positive and negative, using an average fielder at a given position as the baseline with a zero rating indicating that league-average value, gives Young a similarly gloomy assessment at shortstop (–55.6 UZR), second base (–4.0 UZR), and third base (–34.9 UZR).
Franchise player Young found himself at loggerheads with the Rangers in 2009, when they moved Young from shortstop to third base to make room for Elvis Andrus, and again before the 2011 season when the Rangers had acquired third baseman Adrian Beltre and expected Young to become a DH and utility infielder. The popular perception was of a club treating its veteran in a shoddy manner, with Young requesting a trade in each case. In hindsight, Andrus, the runner-up for Rookie of the Year in 2009, has proved to be a solid, if not spectacular, shortstop while Beltre, whose career had seemed moribund after a breakout 2004 season with the Los Angeles Dodgers, will enter the Hall of Fame not long after he retires.
Michael Young is not going to the Hall of Fame. As a hitter, he had an excellent career with a strong nine-year peak, and he remains 117th all-time in doubles (441), 130th in hits (2375), and 206th in batting average (.2999, rounded to .300). But Young joins Garret Anderson, Magglio Ordoñez, and, in this article, Johnny Damon as hitters who looked superficially impressive but in an era of high talent compression, in which there are so many good hitters, they do not stand out from the competition—and that is a prerequisite for a Hall of Famer today.