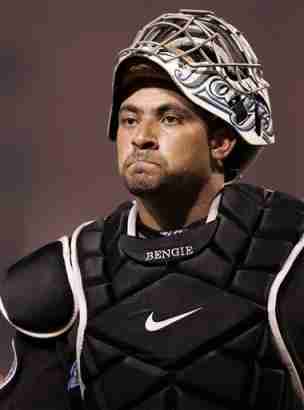 Known primarily for his well above average defensive skills, Bengie Molina did not get enough credit for his hitting acumen. He may have been far from a power hitter, but he had decent contact and was a very smart and selfless player at the plate. Molina won two Gold Gloves for the Angels and helped them win a World Series in 2002.
The Bullet Points:
Country of Origin:
Rio Piedras, Puerto Rico
Eligible In:
The 2016 Vote
Position:
Catcher
Played for:
Anaheim/Los Angeles Angels
Toronto Blue Jays
San Francisco Giants
Texas Rangers
Major Accolades and Awards:
Gold Glove (2) (AL) (2002 & 2003)
World Series Rings (1) (Anaheim Angels, 2002)
Other Points of Note:
None
Notable All Time Rankings:
None
Vote Percentage Received for the Hall of Fame:
N/A
Should Be Inducted As A:
Anaheim Angel
Should Bengie Molina be in the Hall of Fame?
Definitely put him in! - 0%
Maybe, but others deserve it first. - 0%
Probably not, but it wouldn't be the end of the world. - 0%